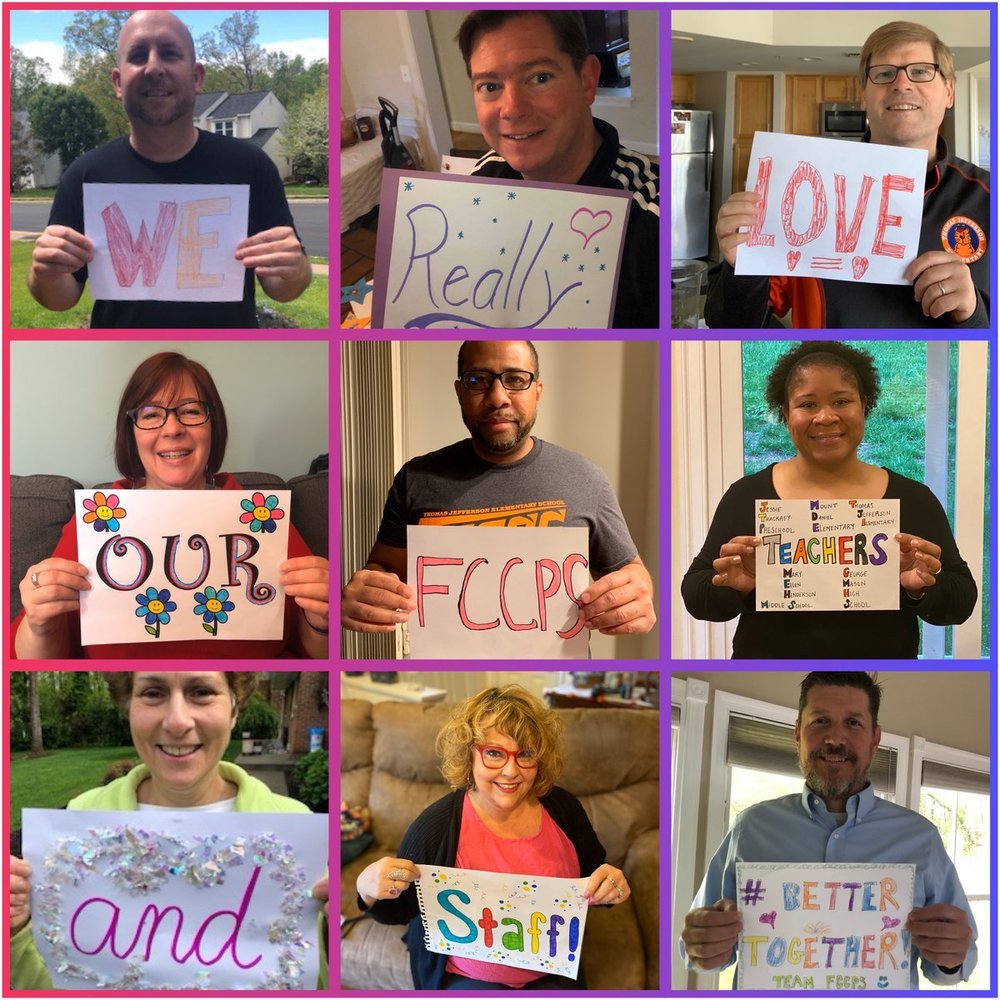 Dr Noonan's Friday COVID-19 Response Update
FCCPS Communications
Friday, May 08, 2020
May 8, 2020
Versión en español a continuación
Dear FCCPS Families,
Another week has come to a close here in our FCCPS learning community. This was a special time, as it was Teacher and Staff Appreciation Week. We are so grateful to our community for their thoughtful recognition and appreciation of our teachers and staff. The cards, emails, social media posts, photos, and gifts were such a beautiful tribute to our teachers and staff members. I do want to take a minute to congratulate our parents during this Teacher Appreciation Week! You are teaching your children in partnership with our staff. None of you signed up for this, but are doing a wonderful job--so we want to give you a "shout out" during this time as well - after all, you are your child's first teacher!
As we have said many times, in FCCPS, we have been thinking about the COVID-19 crisis in three phases; the triage phase, a transitional phase, and a post-pandemic phase. With the initial triage - crisis communication phase over, we now are in the transitional phase where we have a chance to step back and think about, "Where do we go from here to make sure that we're moving forward?"
Since the beginning, we have gathered information from multiple sources – the Fairfax County and Virginia Health Departments, the CDC, the Virginia Department of Education, our regional school division partners, and of course the Governor's office. These experts will ultimately influence our movement forward as a school division.
Yesterday, in a conference call with the county health department, we were informed there continues to be no slowing of COVID-19 cases in Northern Virginia. Any peak in Virginia looks to be weeks away. And even after the peak, it will be several more weeks/months before we finish the road down the curve.
With this broad timeline in mind, which is, of course, subject to refinement, we are beginning to plot waypoints on our journey back to school, by each school - these are the first steps of our FCCPS "Educational Recovery Plan." Our first phase is closing out this school year and addressing the closing of our buildings for intensive, deep summer cleaning. Below you will find details for each school regarding how we are handling this process.
Jessie Thackrey, Mount Daniel, Thomas Jefferson
Teachers are gathering student items and placing them in a paper bag with the student's name on it. These items will remain at school and distributed when the student returns in the fall. Similarly, Day Care staff are gathering items from daycare lockers and placing them in bags for pick up when school reopens. School Health Aides are reviewing student medications. These will remain at school or moved to the student's new school if they are transitioning. If parents need the medication returned, please reach out to your school's administrators.
Technology and library books will be returned to the school in the fall. If we can begin the new school year in school buildings, we will set a date in early August for technology to be returned to get it ready for the new year.
Mary Ellen Henderson, George Mason – Grades 9-11
Please mark the weekend of June 6th and 7th on your calendar as student drop off days. There will be a drop off schedule announced in the upcoming weeks to support social distancing. Tables will be set up outside; in the Kiss-and-Ride loop at Henderson, and the Route 7 loop at George Mason. The contactless process will be for families to drive up in cars and place items in orange moving bins and leave. Our staff will collect the bins, wipe off the items, before bringing them into the building.
Items to be returned the weekend of June 6th and 7th include:
Textbooks
Library books
Band Instruments
Athletic Uniforms (please wash them prior to returning them)
Students who purchased a Henderson or Mason yearbook will have them distributed during this time as well.
All students (except seniors - see below) will retain their laptops through the summer. They will be updated remotely.
INCOMING FRESHMEN: We will plan a laptop exchange in early August where you will exchange your Henderson laptop for a Mason laptop.
Outstanding fees will be invoiced and collected electronically.
As with primary schools, the School Health Aide will review student medications. These will remain at school or moved to the student's new school if transitioning. If parents need the medication returned, please reach out to your school's administrators.
George Mason Seniors
Seniors are receiving their caps and gowns today using a contactless, drive up process. They will also receive information on a Class of 2020 Graduation video being produced that will premiere on June 10th at 7 pm. So, go ahead and make those family viewing party plans and get take-away from your favorite local restaurant in the City of Falls Church! See below for more details...
Saturday, June 11th, will be Senior Drop Off Day! All of the items mentioned above, including your MacBook and charger, will be returned in exchange for your diploma. Any outstanding fees will be invoiced and collected electronically.
A Personal Plea
I am asking as kindly as I can here...please keep your kids home. I have seen quite a number of teens, specifically, throughout our community in the past week out and about not wearing masks or following social distancing. I understand that the weather is getting nicer and we all are going a little stir crazy. However, now, as much as ever, we need to show fidelity to the mitigation efforts to slow the spread of COVID 19. Please keep your kids home so we can return to school in the fall. Every day we give in could result in up to 14 days longer we have to wait to return to some semblance of normal and school. This is a weight that we carry as an entire community, not just the schools. Our path to determine the return to school plan depends on this. Remember, I am a dad of a 16-year-old boy who also lost out on his lacrosse season...this isn't easy and takes fortitude and gumption...don't fall into a "gumption trap" - the first person that tweets at me with the literary reference to "gumption trap" @peternoonan gets a HUGE shout out to the community.
Below you will find some important updates and reminders. Please take a few minutes to review them. Take care of each other, check on your neighbors, support our local business partners, and above all be safe. All my best, and we miss you!
Peter
Updates
Graduation Details
Our Mason seniors received their caps and gowns today! It was exciting to see so many of our students in person...socially distanced...for the first time in months! These young Mustangs have worked hard and remained committed to engaging in learning during these challenging times. They deserve to be recognized for their efforts.
Since the beginning of April, Mr. Hills, Mrs. Reyes, and Mr. Bates have been leading graduation planning meetings with the Mason Student Advisory Council and we are excited to share that our graduates will participate in a professional graduation video production created with the expertise of Molly Hermann and her team at The Biscuit Factory - a local business. The video will be aired at 7:00 pm on June 10th in lieu of in-person graduation. Seniors will return to Mason High School on June 11th to pick up their diplomas, stoles, medallions, cords, etc. and turn in their laptops. We will continue to meet with the students to discuss and plan a face-to-face ceremony in the late summer or fall when it is safe to do so.
Our graduation production is a collective effort from the entire senior class, where individual student videos will be combined to create a seamless streaming production. The video will include student and staff speeches along with the action of students moving their tassels and throwing their caps. We would like to send a special thanks out to our senior class leaders who have remained dedicated to planning a graduation event for the entire Falls Church City Community to enjoy, where we can honor and recognize the incredible accomplishments of the George Mason High School Class of 2020. Please continue to show your appreciation for our graduates by placing congratulatory signs in your yards and windows!
Time Capsule Reminder
Resending this...the email in the first request was incorrect -
Before schools closed, George Mason High School's Yearbook Team started the process of collecting items to place in a new George Mason High School time capsule. Students aimed to collect an array of content - photographs, memos, athletic uniforms, banners, books, letters, report cards, lunch menus, tech devices, and more - that would be interesting for people to discover decades from now.
Let's not let the COVID-19 pandemic stop the momentum! We're encouraging all George Mason High School community members: students (former, current, and future), parents, staff, associated groups, coaches, etc. to look around your homes for items that could be placed in the time capsule. We're also encouraging our GMHS Seniors to write "letters to the future" as a way to share memories of your high school experience.
Once you've found items/written letters, etc...please:
Photograph what you'd like to submit.
Attach a photograph of your item/document to an email addressed to newgmhs@fccps.org
In the subject field type: "Time Capsule Submission."
In the body of the email, identify who you are: Full name, association to GMHS, and phone number. Also, describe what you're submitting with a title, date, and brief description. Don't forget to attach the photo of what you're submitting and/or document to the email.
Submissions will be accepted until Memorial Day (May 25, 2020).
The GMHS Yearbook Team Members and FCCPS will work together to review all submissions based on guidelines, relevance, and the time capsule dimensions, which are approximately 1' W x 7' L (8' total area). Everyone who submitted "Time Capsule Submission" emails will be contacted and made aware of the Yearbook Team and FCCPS' final decisions. When school is reopened, a process will be shared for collecting selected items. While some items may not be selected for final placement, we're confident that many will. Also, anyone who proposes items will be acknowledged in a time capsule memo even if their item isn't selected for final placement.
Reminders
Instructional Updates
As online learning continues, we want to encourage as many of you as possible to have your students log into the synchronous learning opportunities. Social interactions with peers have been a huge boost for many of our students who are missing each other. We understand and respect that online learning is draining and, at this point, a little exhausting, so we simply ask you to continue doing the best you can and try to be online when the synchronous instruction is happening to support the social aspects of instruction.
Our FCCPS COVID-19 Page is full of resources to support students and their families.
SBG Classes (Grading Adjustment)
Due to the closing of schools and the disruption of face-to-face instruction during the spring semester, we have decided to adjust the grading descriptors in our MYP courses at George Mason and Henderson (grades 6-10). Following the guidance of the IB World Organization, we will not issue an end of year MYP grading descriptor for I1 (formally M2 score). Students continue to receive a letter grade for quarter 3 and a P or F grade for quarter 4. If you have questions please reach out to either Rory Dippold at Henderson or Peter Laub at GMHS.
Mental Health Supports
This has been a time of high anxiety and stress for us all. We need to take the same care with our mental health as we do with our physical health. Focusing on emotional needs is essential. It is ok to step back and take a break. We are in the midst of a traumatic event. Caring for yourself and your students is critical. Please visit our FCCPS Mental Health Page for community resources, stress reduction/self-care activities and other information related to this topic. Check on each other, reach out and remember you are not alone.
Food/Nutrition Support
FCCPS continues to provide weekly meal support each Friday. Any family in need can order 7-days' worth of breakfasts and lunches for each child in their family. The boxes of food are distributed at Thomas Jefferson Elementary and George Mason High School. Please visit our FCCPS Nutritional/Support Webpage for information on how to sign up for this wonderful resource. Please reach out to Richard Kane (rkane@fccps.org) for more information or with questions.
Communication/Morning Announcements
The Morning Announcements are back, and I hope you have a chance to see them. We will keep these up for the remainder of the school year. Updates from me have shifted to once a week on Fridays. I, also, will continue to use Twitter to send messages out (including my Wednesday videos from 'Somewhere in FCCPS'), so please follow me @peternoonan.
---
Actualización del Viernes
8 de Mayo de 2020
Estimadas Familias de FCCPS:
Otra semana ha llegado a su fin aquí en nuestra comunidad de aprendizaje. Este fue un momento especial, ya que era la Semana de Apreciación de Maestros y Personal. Estamos muy agradecidos con nuestra comunidad por su atento reconocimiento y aprecio por nuestros maestros y personal. Las tarjetas, correos electrónicos, publicaciones en redes sociales, fotos y regalos fueron un hermoso homenaje a nuestros maestros y miembros del personal. ¡Quiero tomarme un minuto para felicitar a nuestros padres durante esta Semana de Agradecimiento a los Maestros! Estás enseñando a tus hijos en colaboración con nuestro personal. Ninguno de ustedes se inscribió para esto, pero está haciendo un trabajo maravilloso, por lo que queremos darle un "saludo" durante este tiempo también, después de todo, ¡usted es el primer maestro de su hijo!
Como hemos dicho muchas veces, en FCCPS, hemos estado pensando en la crisis COVID-19 en tres fases; la fase de triaje, una fase de transición y una fase post pandémica. Con el triaje inicial: la fase de comunicación de crisis ha terminado, ahora estamos en la fase de transición donde tenemos la oportunidad de dar un paso atrás y pensar: "¿A dónde vamos desde aquí para asegurarnos de que estamos avanzando?"
Desde el principio, hemos reunido información de múltiples fuentes: El Departamentos de salud del Condado de Fairfax y Virginia, el CDC, el Departamento de Educación de Virginia, nuestros socios de la división escolar regional y, por supuesto, la oficina del Gobernador. Estos expertos finalmente influirán en nuestro movimiento hacia adelante como división escolar.
Ayer, en una conferencia telefónica con el departamento de salud del condado, se nos informó que no se está reduciendo la velocidad de los casos de COVID-19 en el norte de Virginia. Cualquier pico en Virginia parece estar a semanas de distancia. E incluso después del pico, pasarán varias semanas / meses más antes de que terminemos el camino.
Con esta amplia línea de tiempo en mente, que, por supuesto, está sujeta a refinamiento, estamos comenzando a trazar puntos de referencia en nuestro viaje de regreso a la escuela, por cada escuela: estos son los primeros pasos de nuestro "Plan de recuperación educativa" de FCCPS. Nuestra primera fase es cerrar este año escolar y abordar el cierre de nuestros edificios para una limpieza intensiva y profunda durante el verano. A continuación encontrará detalles para cada escuela sobre cómo estamos manejando este proceso.
Jessie Thackrey, Mount Daniel, Thomas Jefferson
Los maestros están reuniendo artículos de los estudiantes y colocándolos en una bolsa de papel con el nombre del estudiante. Estos artículos permanecerán en la escuela y se distribuirán cuando el estudiante regrese en el otoño. Del mismo modo, el personal de la guardería está recolectando artículos de los casilleros de la guardería y colocándolos en bolsas para que los recojan cuando la escuela vuelva a abrir. Los Ayudantes de Salud Escolar están revisando los medicamentos de los estudiantes. Estos permanecerán en la escuela o se trasladarán a la nueva escuela del estudiante si están en transición. Si los padres necesitan que se les devuelva el medicamento, comuníquese con los administradores de su escuela.
Los libros de biblioteca y tecnología serán devueltos a la escuela en el otoño. Si podemos comenzar el nuevo año escolar en los edificios escolares, fijaremos una fecha a principios de Agosto para que la tecnología sea devuelta y esté lista para el nuevo año.
Mary Ellen Henderson, George Mason - Grados 9-11
Por favor, marque el fin de semana del 6 y 7 de Junioen su calendario como días de student drop off. Habrá un horario de entrega anunciado para apoyar el distanciamiento social. Las mesas se colocarán afuera; en el Kiss and Ride en Henderson, y la rotonda de la Ruta 7 en George Mason. El proceso sin contacto será para que las familias conduzcan en automóviles y coloquen artículos en contenedores de color naranja en movimiento y se vayan. Nuestro personal recogerá los contenedores, limpiará los artículos antes de llevarlos al edificio.
Los productos que se devuelvan el fin de semana del Junio 6 y 7incluyen:
Libros de texto
Libros de la biblioteca
Instrumentos de Banda
Uniformes Atléticos (lávelos antes de devolverlos)
Todos los estudiantes (excepto los Seniors- ver más abajo) conservarán sus computadoras portátiles durante el verano. Se actualizarán de forma remota.
NUEVOS FRESHMEN: Planificaremos un intercambio de computadoras portátiles a principios de Agosto, donde intercambiará su computadora portátil Henderson por una computadora portátil Mason.
Las tarifas pendientes se facturarán y cobrarán electrónicamente.
Al igual que con las escuelas primarias, el Asistente de Salud Escolar revisará los medicamentos de los estudiantes. Estos permanecerán en la escuela o se trasladarán a la nueva escuela del estudiante si están en transición. Si los padres necesitan que se les devuelva el medicamento, comuníquese con los administradores de su escuela.
George Mason Seniors
Los Seniors están recibiendo sus gorras y batas hoy usando un proceso de conducción sin contacto. También recibirán información sobre la Clase de Graduación 2020 de vídeo que se está produciendo y que se estrenará el 10 de Junio a las 7 pm. ¡Así que adelante y haga esos planes para fiestas familiares!
¡Finalmente, el Sábado 11 de Junio, será el Día de Entrega para los Seniors! Todos los artículos mencionados anteriormente, incluyendo su MacBook y cargador, serán devueltos a cambio de su diploma. Cualquier tarifa pendiente se facturará y cobrará electrónicamente.
Una Petición Personal.
Les pido lo más amablemente que puedo aquí ... por favor mantengan a sus hijos en casa. He visto a un buen número de adolescentes, específicamente, en toda nuestra comunidad durante la semana pasada afuera sin el uso de máscaras ni siguiendo el distanciamiento social. Entiendo que el clima está mejorando y que se vuelve un poco desesperante. Sin embargo, ahora, tanto como siempre, debemos mostrar fidelidad a los esfuerzos de mitigación para frenar la propagación de COVID 19. Por favor, mantenga a sus hijos en casa para que podamos regresar a la escuela en el otoño. Cada día que cedemos podría resultar en hasta 14 días más, tenemos que esperar para volver a la apariencia normal y escolar. Este es un peso que llevamos como comunidad entera, no solo las escuelas. Nuestro camino para determinar el plan de regreso a la escuela depende de esto. Recuerde, soy padre de un niño de 16 años que también perdió su temporada de lacrosse ... esto no es fácil y requiere fortaleza y sentido común ... no caiga en una "trampa de sentido común": la primera persona que twittea hacia mi con referencia literaria a la "trampa de sentido comun" @peternoonan recibe un GRAN saludo a la comunidad.
A continuación encontrará algunas actualizaciones y recordatorios importantes. Tómese unos minutos para revisarlos. Cuídate, controla a tus vecinos, apoya a nuestros socios comerciales locales y, sobre todo, mantente seguro. Todo lo mejor de mí, y te extrañamos!
Peter
Actualizaciones
Detalles de Graduación
Nuestros Seniors de Mason recibieron hoy sus gorras y batas! Fue emocionante ver a muchos de nuestros estudiantes en persona por primera vez en meses. Estos jóvenes Mustangs han trabajado duro y se han comprometido a participar en el aprendizaje durante estos tiempos difíciles. Merecen ser reconocidos por sus esfuerzos.
Desde principios de Abril, el Sr. Hills, la Sra. Reyes y el Sr. Bates han estado liderando reuniones de planificación de graduación con el Consejo Asesor Estudiantil de Mason y nos complace compartir que nuestros graduados participarán en una producción profesional de videos de graduación creada con experiencia de Molly Hermann y su equipo en The Biscuit Factory , un negocio local. El vídeo será transmitido a las 7:00 pm el 10 de Junio en lugar de una graduación en persona. Los Seniors regresarán a Mason High School el 11 de Junio para recoger sus diplomas, estolas, medallones, cuerdas, etc. y entregar sus computadoras portátiles. Continuaremos reuniéndonos con los estudiantes para discutir y planear una ceremonia cara a cara a fines del verano u otoño cuando sea seguro hacerlo.
Nuestra producción de graduación es un esfuerzo colectivo de toda la clase senior, donde los videos individuales de los estudiantes se combinarán para crear una producción de transmisión continua. El video incluirá discursos de estudiantes y personal junto con la acción de los estudiantes moviendo sus borlas y arrojando sus gorras. Nos gustaría enviar un agradecimiento especial a nuestros líderes de clase sénior que se han dedicado a planificar un evento de graduación para que disfrute toda la comunidad de Falls Church City, donde podamos honrar y reconocer los increíbles logros de la clase de George Mason High School. 2020. ¡Continúe mostrando su aprecio por nuestros graduados colocando carteles de felicitación en sus patios y ventanas!
Recordatorio de la Cápsula de Tiempo
Reenviando esto ... el correo electrónico en la primera solicitud era incorrecto:
Antes de que cerraran las escuelas, el Equipo del Anuario de la Escuela Secundaria George Mason comenzó el proceso de recolectar artículos para colocarlos en una nueva cápsula de tiempo de la Escuela Secundaria George Mason. Los estudiantes tenían como objetivo recopilar una gran variedad de contenido: fotografías, notas, uniformes deportivos, pancartas, libros, cartas, boletas de calificaciones, menús de almuerzo, dispositivos tecnológicos y más, que sería interesante para las personas descubrir en décadas.
¡No permitamos que la pandemia de COVID-19 detenga el impulso! Estamos alentando a todos los miembros de la comunidad de la Escuela Secundaria George Mason: estudiantes (antiguos, actuales y futuros), padres, personal, grupos asociados, entrenadores, etc. a que busquen en sus hogares artículos que puedan colocarse en la cápsula del tiempo. También alentamos a nuestros Seniors de GMHS a escribir "cartas al futuro" como una forma de compartir recuerdos de su experiencia en la escuela secundaria.
Una vez que haya encontrado artículos / cartas escritas, etc., por favor:
fotografíe lo que le gustaría enviar.
Adjunte una fotografía de su artículo / documento a un correo electrónico dirigido a newgmhs@fccps.org
En el campo del asunto escriba: "Time Capsule Submission".
En el cuerpo del correo electrónico, identifique quién es usted: nombre completo, asociación con GMHS y número de teléfono. Además, describa lo que envía con un título, una fecha y una brave descripción. No olvide adjuntar la foto de lo que está enviando y / odocumento al correo electrónico.
Las presentaciones serán aceptadas hasta el Día de los Caídos (25 de mayo de 2020).
Los miembros del equipo del anuario de GMHS y FCCPS trabajarán juntos para revisar todas las presentaciones basadas en las pautas, la relevancia y las dimensiones de la cápsula de tiempo, que son aproximadamente 1 'W x 7' L (8 'área total). Se contactará a todos los que enviaron correos electrónicos de "Envío de cápsulas de tiempo" y se les informará acerca del Equipo del Anuario y las decisiones finales de FCCPS. Cuando se vuelva a abrir la escuela, se compartirá un proceso para recolectar artículos seleccionados. Si bien algunos elementos pueden no seleccionarse para la ubicación final, confiamos en que muchos lo harán. Además, cualquiera que proponga artículos será reconocido en una nota de cápsula de tiempo, incluso si su artículo no está seleccionado para la colocación final.
Recordatorios
Actualizaciones Instructivas
A medida que continúa el aprendizaje en línea, queremos alentar a la mayor cantidad posible de ustedes para que sus estudiantes inicien sesión en las oportunidades de aprendizaje sincrónico. Las interacciones sociales con sus compañeros han sido un gran impulso para muchos de nuestros estudiantes que se extrañan mutuamente. Entendemos y respetamos que el aprendizaje en línea es agotador y, en este punto, un poco agotador, por lo que simplemente le pedimos que continúe haciendo lo mejor que pueda e intente estar en línea cuando la instrucción sincrónica está sucediendo para apoyar los aspectos sociales de la instrucción.
Nuestra página FCCPS COVID-19 está llena de recursos para apoyar a los estudiantes y sus familias.
Clases de SBG (Ajuste de Calificaciones)
Debido al cierre de escuelas y la interrupción de la instrucción presencial durante el semestre de primavera, hemos decidido ajustar los descriptores de calificación en nuestros cursos del MYP en George Mason y Henderson (grados 6-10) . Siguiendo las indicaciones de la Organización Mundial del IB, no emitiremos un descriptor de calificaciones del MYP de fin de año para I1 (puntaje formalmente M2). Los estudiantes continúan recibiendo una calificación de letra para el trimestre 3 y una calificación P o F para el trimestre 4. Si tiene alguna pregunta, comuníquese con Rory Dippold en Henderson o Peter Laub en GMHS.
Apoyo de Salud Mental
Este ha sido un momento de gran ansiedad y estrés para todos nosotros. Necesitamos tener el mismo cuidado con nuestra salud mental que con nuestra salud física. Centrarse en las necesidades emocionales es esencial. Está bien dar un paso atrás y tomar un descanso. Estamos en medio de un evento traumático. Cuidarse a sí mismo y a sus alumnos es fundamental. Visite nuestra página de salud mental de FCCPS para obtener recursos de la comunidad, actividades de reducción de estrés / autocuidado y otra información relacionada con este tema. Revise el uno al otro, comuníquese y recuerde que no está solo.
Apoyo de Alimentos / Nutrición
FCCPS continúa brindando apoyo semanal de comidas todos los Viernes. Cualquier familia necesitada puede pedir desayunos y almuerzos por 7 días para cada niño de su familia. Las cajas de comida se distribuyen en Thomas Jefferson Elementary y George Mason High School. Visite nuestra página web de soporte / nutrición de FCCPS para obtener información sobre cómo inscribirse en este maravilloso recurso.con Richard Kane comuniquese con(rkane@fccps.org) para obtener más información o hacer preguntas.
Comunicación / Anuncios Mañaneros
Los Anuncios Mañaneros se reanudaron, y espero que tengan la oportunidad de verlos. Los mantendremos durante el resto del año escolar. Las actualizaciones de mí han cambiado a una vez por semana los viernes. Yo también continuaré usando Twitter para enviar mensajes (incluidos mis videos de los Miércoles de 'Somewhere in FCCPS'), así que síganme en @peternoonan.
---